HOME | BIO/AWARDS | REVIEWS | RESUME | GALLERY | REPRESENTATION
JENNIFER TOFFEL
AWARDS, REVIEWS AND QUOTES
---
BACKSTAGE GARLAND AWARD NOMINEE
CRITICS CHOICE - LA TIMES
Sam Shepard's "A Lie Of The Mind"


---
---
---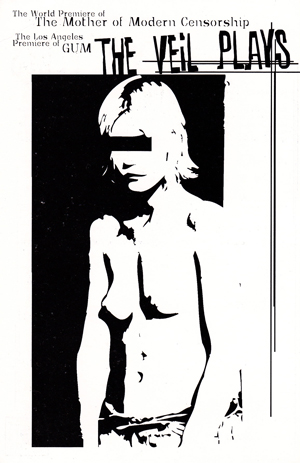 BACKSTAGE
Circle X Theatre Company
"THE VEIL PLAYS"
"The Mother Of Modern Censorship"

"Toffel's performance... hilarious... compelling to watch.



DAILEY VARIETY - Steve Oxman,
"An able Jennifer Toffel plays the title character in
"The Mother Of Modern Censorship"
a woman who has been her nation's chief music
censor for many years, deciding what the youth
of her morally upright, restrictive society shouldn't
hear. As such, we're informed that this "impeccable"
person "knows more dirty words than anyone in the
land," and every once in a while she angrily starts
spewing them when her authority is challenged."
---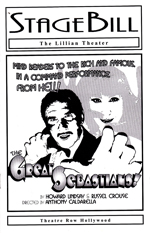 BACKSTAGE - Travis Michael Holder
"THE GREAT SEBASTIANS"
... a great ensemble ... The large supporting cast
with the sultry Jennifer Toffel as Vlasta, work into
the mix without a weak link among the ranks."
---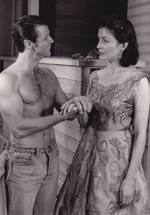 DRAMALOGUE CRITICS AWARD FOR PERFORMANCE
"PICNIC"
"Flo Owens, the mother of Madge & Millle is superbly
performed by Jennifer Toffel, who integrates active
observation and a clarifying rhythm for Flo's character
to convey her skills of survival and steady, grounded
wisdom,supporting the evolving individuality of her
daughters." - J.M. McCart - Dramalogue
---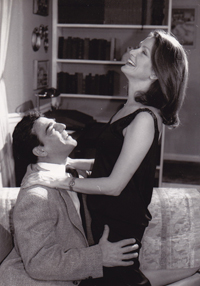 ARTISTIC DIRECTORS ACHIEVEMENT AWARD
A.D.A. NOMINATION
BEST LEAD ACTRESS IN A COMEDY
NEIL SIMON'S "CHAPTER TWO"
".. Jennifer Toffel was equally impressive, bringing
class and a lot of heart to her character."

THE TOLUCAN TIMES - Pat Taylor
---